I haven't done a food post in a while, so let's have some fresh veggies, shall we?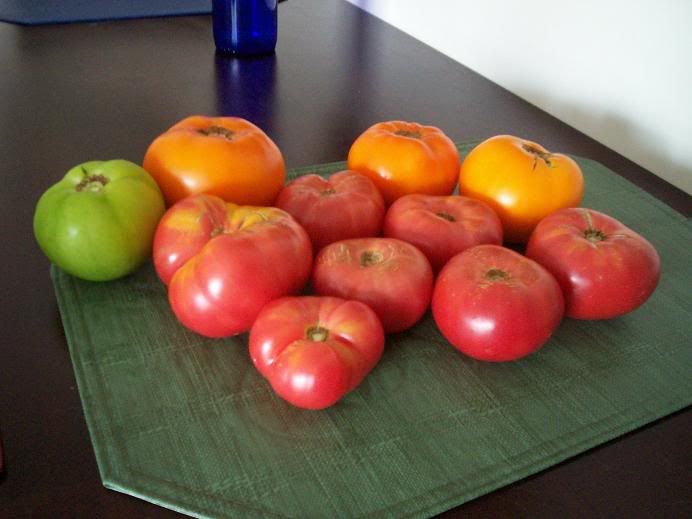 These lovelies came out of our garden. Just picked them on Saturday. Mom and I canned marinara, salsa and tomato juice allllll day long. The gorgeous green tomato on the lefthand side is not your typical green tomato! It's called a Granny Smith, and much like the apple it's named after, it's mostly tart with just a touch of sweetness. They do not ripen, but will eventually get sort of a yellowish tinge, and are specifically for frying and grilling. We tried some on the grill Saturday and Oh. My. God. mouthgasm! Brush a little olive oil on them, salt and pepper...good eatin'! They're very firm, but soften nicely when grilled or cooked.
The yellow tomatoes are called Limmony and they're very good for canning and sauces, as they're meaty and don't have a lot of seeds or juice, but I think they're perfectly fine for just eating straight up.
The pink tomatoes are my absolute favorites ever, German Johnsons. They're sweet, juicy and positively melt in your mouth. I've never found a better tomato for just eating by themselves, although I'm sure they'd be great on a sandwich, too. Plus everyone always kids me about the name, so bonus!
I had a few leftover Romas, after the marinara-making excursion, so decided to make some homemade Pomodoro sauce for lunch. It was ubersimple. I heated some olive oil, added one clove of finely diced fresh garlic, and when that was starting to brown, put in about 1/4 cup of Balsamic vinegar. I reduced that down until it was glossy and thick, then added in two big, diced Roma tomatoes and just let that simmer with some oregano and basil while my pasta was cooking. Top with a few grates of Parmesan and...
**Voila!!**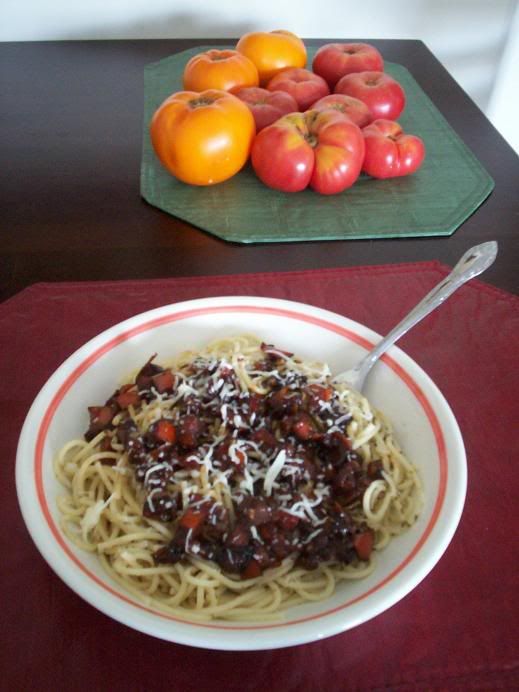 We grew something this year that I've not had since I was a kid, but I was oh-so-happy to have them again. I used to just peel these and eat them with a little salt when I was younger, and the other day, I got to do so again. It was just like childhood. Click the cut to play Guess the Mutant Veggie.
( -----> )